Velkommen til en ny utfordring her på Art Pieces! :-)
Lørdag denne uken er det Valentines Day, derfor vil utfordring #7 være i kjærlighetens tegn. Ukens tema er:
Love, love, looove - VALENTINE!
Vi ønsker altså å se kjærlighets ATC`er, og vi gleder oss til å se bidragene deres. :-)
Denne uken er vi så heldige å ha med oss noen fantastiske gjestedesignere. Disse jentene designer for TreL, og de har laget nydelige Valentine ATC`er til ukens utfordring.
TreL har fysisk butikk i Bodø hvor det også arrangeres kurs og treff, men har også en nettbutikk du kan besøke, samt en blogg hvor du blandt annet kan se mer fra designerne. Kos dere med de nydelige bidragene fra våre gjestedesignere, og la deg inspirere.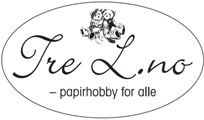 Welcome to a new challenge here at Art Pieces! :-)
This week Valentines Day is coming up, so this weeks challenge is in the name of love. ;-) The theme is:
Love, love, loooove - VALENTINE

!
We want to see love ATC`s, and are looking forward to see your contribution.
This week we are lucky to have some great guestdesigners from TreL with us. They have created some fabulous ATC`s to this weeks challenge, and we hope and believe you can be inspired!
Lise
:
Linn
:
Isabell
:
Cathrine
:
Ukens premie er sponset av
Papirdesign
: 12x12" ark fra den nye Valentinekolleksjonen og besteforeldrekolleksjonen, samt et tekststempel som passer i en 1 1/2" puncher.
Art Pieces designere har selvfølgelig også laget nydelige bidrag til ukens utfordring. Ta en titt på bidragene i bloggene deres.
Take a look at Art Pieces designers love ATC`s:
Lena